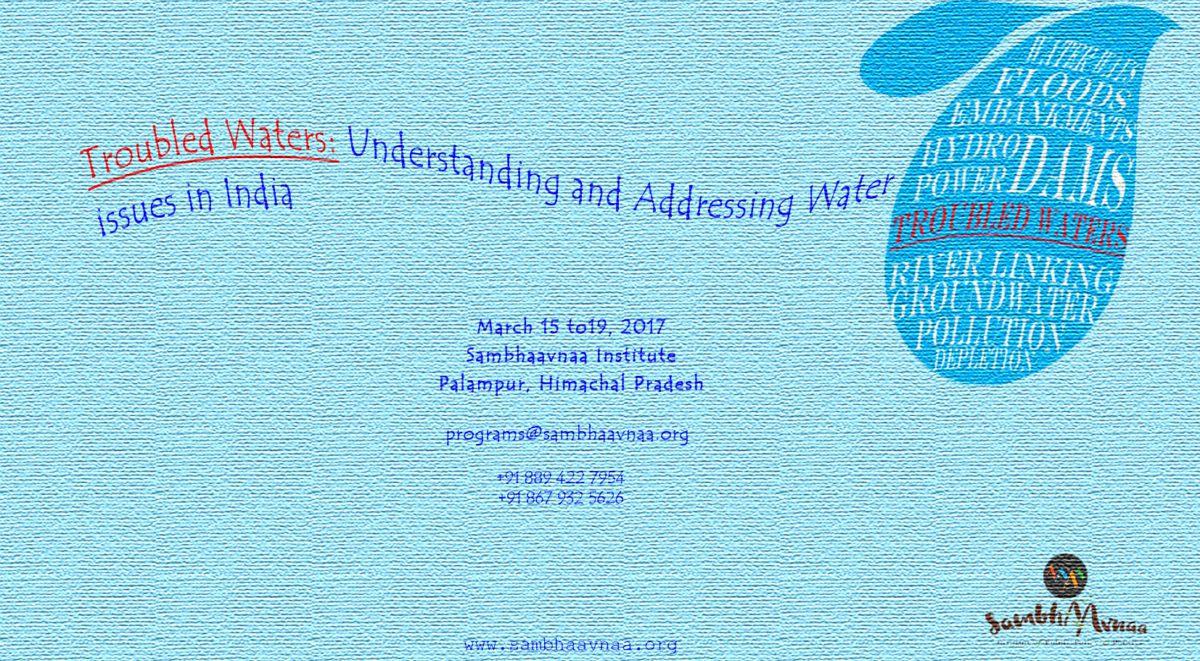 Background
Last summer a 11 year old girl died of heatstroke while spending close to four hours in 42 degrees Celsius collecting water from a village pump in the western Maharashtra state. 256 districts saw this extent of water scarcity and drought affecting close to 330 million people. Both ground and surface water crises beckon our attention. Water availability in India's 91 reservoirs is at its lowest in a decade, with stocks at a paltry 29% of their total storage capacity, according to the Central Water Commission. In the same year we also saw floods in Uttar Pradesh, Bihar, Uttarakhand, Rajasthan and Madhya Pradesh. The large scale developmental activities on flood plains and river fronts have endangered the health of the rivers in an irreversible manner.
Despite such a scenario the State response has been to continue pushing ambitious, financially nonviable and socially and ecologically disastrous projects like inter-linking of rivers. Loosening environmental controls and tightening the spaces available to communities and civil society to assert their ownership and rights over water resources has only worsened the condition of our water resources. What are the contemporary water issues of our time? How do we assess the breadth and depth of the crisis and what could be points of intervention vis a vis the key water crises today?
About The Workshop
Sambhaavnaa Institute, The Forum for Policy Dialogue on Water Conflicts in India and India Water Portal are jointly organizing a workshop on understanding and  addressing  critical issues in the water sector in the country.
The program is specially designed for young people who wish to work or are working on water related issues, and want to expand and deepen their knowledge and understanding about water. It would also be useful for people working on other issues but who want to develop an understanding of water issues. This can include young activists in various sangathans, struggles, NGOs, they could be researchers in academia, lawyers working on water related cases, or could be media people wanting to report in this area. Those young at heart and wanting to understand these issues are also welcome.
The workshop will include overarching  topics like overview of water resources in India, key dimensions of water crisis in the country, equity and justice issues in water (includes caste, gender, other related issues), water conflicts, emerging developments in water policy, law and regulation; detailed discussions on selected issues like dams, irrigation and hydropower, irrigation and food security, water pollution, privatisation and commodification in water, national inland waterways etc; and several case studies. The detailed program of the workshop will be announced soon. The topics listed here are indicative.
Methodology: There will be a short field visit on one of the days.  A mixed methodology with a focus on interactive, participatory discussions will be followed at the workshop. There will be lectures and presentations by resource persons, sharing of experiences by participants, films, readings and discussions. The location and structure of the workshop offers ample opportunities for formal and informal discussions and sharing.
Resource Persons:
Shripad Dharmadhikary is an activist,  researcher, and coordinator of the Manthan Adhyayan Kendra that studies water and energy policies. His interests include dams, rivers, environmental flows, water privatisation and coal-water nexus. A graduate engineer from IIT Bombay he was earlier an activist for 12 years with the Narmada Bachao Andolan.
K. J. Joy is a founding member of and a Senior Fellow at Society for Promoting Participative Ecosystem Management (SOPPECOM), Pune. He has been an activist-researcher for more than 30 years and his areas of work/interest include people's institutions for natural resource management, drought and drought proofing, participatory irrigation management, river basin management and multi-stakeholder processes, watershed based development, water and sanitation, biodiversity, water conflicts, and people's movements. He coordinates the national level network on water conflicts, "Forum for Policy Dialogue on Water Conflicts in India"
RAVI CHOPRA is a recipient of IIT-Bombay's 2012 Distinguished Alumnus Award, Dr Ravi Chopra works at People's Science Institute, Dehra Doon. His research focuses on the interactions between technology and society and, environment and development. He helped conceive and produce the first two citizens' reports on The State of India's Environment.
Chicu Lokgariwar works with India Water Portal​.
Apart from the above we will also have other resources persons who are also likely to participate in the program.
Dates: March 15 -19, 2017 (Both days inclusive)
Venue:  Sambhaavnaa Institute, Palampur, H.P.
Language: English and Hindi
Contribution : 3500/-
[This fee covers the cost of lodging and boarding at the Institute, and training. Travel is to be borne separately by the participants. Need based full or partial fee waivers are available for students or individuals not associated with a formal organisation. Please indicate in the application form if you need fee waiver along with explanation for the same.]
Contact:  For more information please call 889 422 7954 or email: programs@sambhaavnaa.org
Address: Sambhaavnaa Institute of Public Policy and Politics, Kandbari, Palampur,  Distt. Kangra, Himachal Pradesh 176061
Tentative Schedule
Day 1: 15/3
Introduction to workshop, introductions of participants
Overview of Water Resources in India, and Key issues
Socio-cultural and bio-physical dimensions of water & Equity Dimensions in Water(Gender, Class, Caste)
Day 2: 16/3
Water Conflicts in India
Hydropower in Himachal Pradesh and Uttarakhand: Impacts, Community Responses, Assessing Cumulative Impacts of Himalayan Dams (Discussion Based on Ravi Chopra Committee Ordered by Supreme Court)
Open session – For Participants to Share their experiences, queries
Climate Change and Water – Impacts, Mitigation, Adaptation
Day 3: 17/3
Emerging Developments in Water Policy and Regulation – National Framework Law, Model Groundwater Bill, Restructuring of CWC,CGWB, River Basin Management
Environmental Flows – Concepts, Emerging Practice in India, Future role
Open session – For Participants to Share their experiences, queries
Groundwater – Key Issues and Challenges, Participatory Groundwater Management
Day 4: 18/3
Field visit. (Other sessions would depend on the duration of the field visit)
Day 5: 19/3
Emerging major interventions in rivers: Inter Linking of Rivers, National Inland Waterways, Ganga Rejuvenation
Review of Workshop and Feedback